Decreasing Term Insurance
Learn about Decreasing Term Life Insurance and how it works
What is Decreasing Term Life Insurance?
Decreasing Term Life Insurance, also known as Mortgage Protection, is a life insurance policy where the amount of cover you have decreases over time, usually in line with your mortgage repayments. This insurance product is designed to pay off your outstanding mortgage balance if you were to pass away, whilst ensuring you're not paying for cover you do not need or want.
If you don't die before the Decreasing Term policy ends and you want to stay covered, you will need to take out another Life Insurance policy.
Why should I choose Decreasing Term Life Insurance?
A Decreasing Term policy simply provides financial cover for your mortgage in the event that you pass away before you finish paying it off. This means that your loved ones won't be left reeling in the wake of trying to continue paying the mortgage off and instead have peace of mind that the mortgage is taken care of.
Decreasing Term policies tend to be cheaper than Level Term and are designed for those looking to cover only their mortgages. It can sometimes be a requirement or request by the bank or building society providing the mortgage service that you have some form of Life Insurance in place before the mortgage starts, and a Decreasing Term Life Insurance policy can be an option for covering this. This policy is designed to ensure that the agreement with the mortgage lender can be settled, meaning your family don't have to worry about paying the mortgage themselves.
To ensure that the remaining balance of your mortgage is completely covered, the policy chosen would need to reflect the amount left on your mortgage and how long you have left to pay it off. Policies also need to take into account your current mortgage interest rate and any potential rises. Protect Line can help you with this if you are unsure, simply request a quote today to speak to a specialist.
What are the benefits of Decreasing Term cover?
Because the policy decreases throughout, you are seen as less of a risk to insurers and therefore usually get cheaper monthly premiums than if you chose a level term policy.
Decreasing Term Life Insurance ensures your loved ones will be able to settle any outstanding mortgage upon your passing. Without this protection, they may be forced to sell the roof over their heads and move into somewhere new, during a period of grieving.
Are there any considerations with a Decreasing Term policy?
A Decreasing Term policy isn't particularly suitable for those with an interest-only repayment mortgage, due to the capital debt needing to be repaid when the mortgage term comes to an end.
A Level Term policy may be required if you're looking to cover more than just the costs of your mortgage, such as leaving a lump sum for your loved ones.
Decreasing term policies do not cover you for life – if you don't want to limit the period of time which you're covered for, a Whole of Life policy might be worth looking into.
You can purchase a Decreasing Term policy for yourself or for you and a partner – known as a Single or Joint policy respectively. A Joint Decreasing Term policy is sometimes cheaper but it will only pay out once when one of either policy holders die. The remaining person will be left without any cover from the Joint policy and will require a new policy if they wish to have financial protection. Bearing this in mind, it may be more beneficial to set up two Single Decreasing Term policies – ensuring that no matter what happens, both partners are protected.
Typically, protection plans have no cash-in value and cover will cease at the end of the term, or if premiums are not maintained.
We're the UK's #1 Life Insurance Broker, as voted for by real customers
Providing first-class service is something we're extremely proud of. We're fortunate that our customers have recognised this and have voted for us in these excellent awards.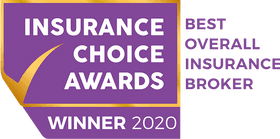 What affects the cost of a Decreasing Term policy?
As with all Life Insurance policies, your health, age and lifestyle will influence your monthly premiums and how much an insurer is willing to cover you for, as well as how long they will cover you for. Factors like smoking, height and weight, a history of illnesses and more will contribute towards how big a risk you are to an insurer. Another factor that's often not thought about by people applying for Life Insurance is how your occupation can affect your cover – if you're someone who works at great heights every day, you're going to be deemed 'riskier' than someone who has an office job.
You can find out more information by visiting our High-Risk Factors page.
How do I get Decreasing Term Life Insurance?
Taking out a Decreasing Term policy with Protect Line couldn't be simpler. Use our online quoting service to find a selection of Decreasing Term policy options. All quotes are personalised to the individual, taking health and lifestyle into account.
Alternatively, you can call us directly on 0333 880 3030. We're a non-advisory service, so whilst we can't offer you any advice, we can answer your questions with facts, not our opinions.
How much cover do you need?
How much Life Insurance cover you would need to protect your family can be a difficult question to answer. Our calculator can help you work out how much your family would need if the worst should happen.
Mortgage
How much is outstanding on your mortgage?
We work with some of the UK's leading insurers