Critical Illness Cover
Learn about Critical Illness Cover and how it works
What is Critical Illness Cover?
What would happen to your family if you were unable to work? Would they be able to cope financially if you were so ill that you couldn't pay towards the bills or your mortgage? Critical Illness Cover exists to safeguard your family if this scenario was to unfortunately arise. We don't know what life will bring us from one day to the next, but critical illness cover is a way to prepare against the worst happening.
If you suffer a stroke or heart attack, or develop cancer or another serious illness which meets the insurer's specifications, you will receive your Critical Illness insurance sum while you're still alive – to support yourself and your family at a time when you may be unable to do so yourself. You might even opt to use the money to create happy memories, such as that dream holiday or trip.
This kind of insurance is invaluable to those who have been forced to leave their job due to the severity of their illness, or have lost their independence and require costly care for their condition. What's more, many insurers will even include some level of cover for your children at no extra cost, too. With all of our insurers, a Critical Illness Cover policy will even pay out if you die, just as a Life Insurance policy would.
What's the difference between Critical Illness Cover and Life Insurance?
Critical Illness Cover is designed to pay out when you're diagnosed with a life-changing illness which is specified by the cover provider. Not all illnesses are covered so you'll need to be aware of what illnesses do result in a pay out and which don't.
Life Insurance is designed to pay out when you die, so you can rest assured that your loved ones will have financial stability when you're gone. This could be to pay off your mortgage or provide a lump sum to your family. Read more about Life Insurance.
What are the benefits of Critical Illness Cover?
Tax-free payout: The money you receive from a Critical Illness policy is exempt from tax, meaning that if you are diagnosed with a serious illness during the policy term and it is one of the pre-defined illnesses listed, you get the full amount and none of it is taken by the tax man;
Financial security: You can use the money to pay off any debts or to make sure your family have something to help in tough times. If necessary, the money could also be used to pay for medical expenses or for adapting your home to cope with the illness;
Cover for your children: Many insurers will also cover your children when a critical illness policy is taken out, however the pay-out depends on what the insurer is offering. You'll have additional peace of mind knowing your children are also covered;
A chance for you to take that dream holiday: It could be that when you're diagnosed with a life-changing illness that you want to tick a couple of things off of your bucket list. Critical Illness Cover could do that for you, enabling you to take that holiday of a lifetime and create many happy memories at a time when they're sorely needed.
We're the UK's #1 Life Insurance Broker, as voted for by real customers
Providing first-class service is something we're extremely proud of. We're fortunate that our customers have recognised this and have voted for us in these excellent awards.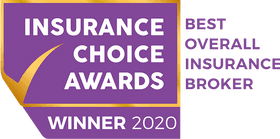 Are there any considerations with Critical Illness Cover?
As with Life Insurance, if you were to stop paying the premiums the Critical Illness Cover will lapse and you won't be protected. It's important to determine if you can afford the cover before you take out the policy.
It's extremely important to be completely transparent and honest when applying for cover. If you haven't disclosed something about your medical history and you need to make a claim, there is a chance your claim could be denied due to this. Honesty is the best policy!
Plans may not cover all the definitions of a Critical Illness. The definitions vary between product providers and will be described in the key features and policy document if you go ahead with a plan.
If the policy has no investment element then it will have no cash-in value at any time and will cease at the end of the term. This means that should you not be diagnosed with a severe illness before the policy ends, you won't receive anything back once it stops. If premiums are not maintained, then cover will lapse.
What affects the cost of Critical Illness Cover?
The cost of a Critical Illness plan will be influenced by a several factors; the likelihood that you'll make a claim, your age and your health and lifestyle. This means that you could reduce the costs of cover if you make positive changes to your health, such as taking steps to lose weight, quitting smoking or reducing your alcohol intake.
How do I get Critical Illness Cover?
Taking out Critical Illness Cover with Protect Line couldn't be simpler. You can call us directly on 0333 880 3030. We're a non-advisory service, so whilst we can't offer you any advice, we can answer your questions with facts, not our opinions.
Critical Illness plans may not cover all definitions of a critical illness. The definitions vary between product providers and will be described in the key features and policy document if you go ahead with a plan.
How much cover do you need?
How much Life Insurance cover you would need to protect your family can be a difficult question to answer. Our calculator can help you work out how much your family would need if the worst should happen.
Mortgage
How much is outstanding on your mortgage?
We work with some of the UK's leading insurers