Level Term Life Insurance
Learn about Level Term Life Insurance and how it works
What is Level Term Life Insurance?
Level Term Life Insurance is a policy where your cover amount doesn't change and stays 'level' throughout the duration that you have the policy. This means that your premiums are fixed – the price you pay doesn't increase or decrease as the policy progresses.
If you don't die before the Level Term policy ends and you want to stay covered, you will need to take out another Life Insurance policy, however this will be based on your age, health and lifestyle at that time.
Why should I choose Level Term Life Insurance?
A Level Term policy might be suitable for you if you're looking to protect more than just your mortgage. Level Term policies tend to be more expensive versus a Decreasing Term policy, which is used primarily to pay off a mortgage, however the sum assured does not decrease and can be a suitable way to pay off debts, as well as providing a lump sum to your loved ones.
For example, if you chose a Level Term policy when you first took out a mortgage and were to pass away having paid off only half it, the remainder of the mortgage would be covered by the policy and the rest of the money could be distributed between your dependents.
What are the benefits of Level Term cover?
As the policy remains level throughout, this means that the sum assured doesn't change and neither do the premiums. This means you'll always be paying the same amount for your Life Insurance cover, and it won't decrease or increase as time goes on.
A Level Term policy could be a suitable choice if you wish to leave a lump sum to your loved ones. Your family doesn't need to be subjected to a hefty inheritance tax on the pay-out as we offer a free Trust arrangement service.
Taxation and Trust planning are not regulated by the Financial Conduct Authority.
Are there any considerations with a Level Term policy?
A Level Term policy might actually give you more cover than you need – you may think you're doing your family a favour by getting Life Insurance cover for hundreds of thousands of pounds, but all this does is drive up your monthly premiums which may result in your cover lapsing if you can't afford to keep up the payments.
A Decreasing Term policy may be more suitable if you're looking to only cover the costs of your mortgage and may work out to be more cost effective than a Level Term policy. A decreasing term policy is only suitable for repayment mortgages and not interest-only mortgages.
Level Term policies do not cover you for life – if you don't want to limit the period of time which you're covered for, a Whole of Life policy might be worth looking into.
You can purchase a Level Term policy for yourself or for you and a partner – known as a Single or Joint policy respectively. A consideration with a Joint Level Term policy is that when either of the two holders of the policy die, the other person will not be covered by the Joint policy any longer and will require a new policy to make sure they're protected. Bearing this in mind, it may be more beneficial to set up two Single Level Term policies – ensuring that no matter what happens, both partners are protected. In some cases we can set up Joint policies that pay-out once the second person dies. If this is something you're interested in, we can help set this up for you.
Typically, protection plans have no cash-in value and cover will cease at the end of the term, or if premiums are not maintained.
We're the UK's #1 Life Insurance Broker, as voted for by real customers
Providing first-class service is something we're extremely proud of. We're fortunate that our customers have recognised this and have voted for us in these excellent awards.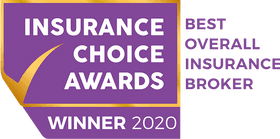 What affects the cost of a Level Term policy?
As with all Life Insurance policies, your health and lifestyle will influence your monthly premiums and how much an insurer is willing to cover you for. Factors like smoking, height and weight, a history of illnesses and more will contribute towards how big a risk you are to an insurer. Another factor that's often not thought about by people applying for Life Insurance is how your occupation can affect your cover – if you're someone who works at great heights every day, you're going to be deemed 'riskier' than someone who has an office job.
You can find out more information by visiting our High-Risk Factors page.
How do I get Level Term Life Insurance?
Taking out a Level Term policy with Protect Line couldn't be simpler. Use our online quoting service to find a selection of Level Term policy options. Remember, the quotes we provide are based on perfect health and lifestyle and may not reflect the actual price of your Life Insurance.
Alternatively, you can call us directly on 0333 880 3030. We're a non-advisory service, so whilst we can't offer you any advice, we can answer your questions with facts, not our opinions.
How much cover do you need?
How much Life Insurance cover you would need to protect your family can be a difficult question to answer. Our calculator can help you work out how much your family would need if the worst should happen.
Mortgage
How much is outstanding on your mortgage?
We work with some of the UK's leading insurers