Accessibility & Inclusion
Find all our accessibility info here...
Supporting the needs of our customers...
It's important to us that all our customers are able to access our website and services equally and comfortably so everyone can protect what's most important to them.
For customers who may need additional help, we offer extra support and resources to make this easier and accessible, including users with impairments to their vision, hearing, mobility, thinking and understanding.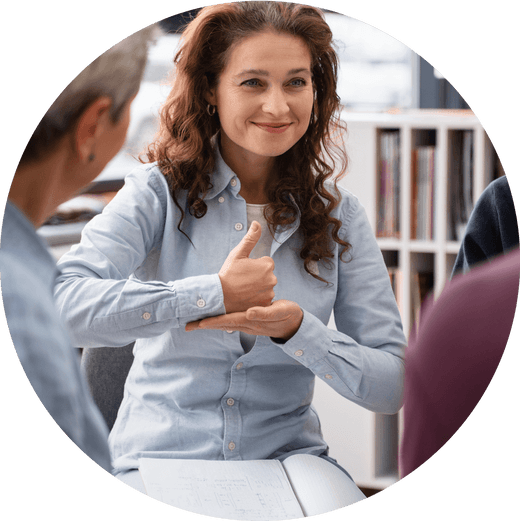 Website accessibility
We have tried our best to ensure our website is accessible to everyone, no matter their impairments or technologies they use
Our website is designed, where possible, to meet the requirements of Web Content Accessibility Guidelines (WCAG 2.1), which are produced by the World Wide Web Consortium (W3C). The WCAG criteria cover everything from site navigation to text, videos, inputs and more. Some notable WCAG requirements our website includes:
View the website easily using different size screens;

Access the website using different browsers and devices;

All content and links are keyboard-accessible and forms have field focus;

Colour contrast is, in most instances, at least 4.5:1;

Navigation elements are consistent throughout the site;

Form fields have accurate labels;

All content is structured logically and can be navigated and read by a screen reader;

Reflow is enabled for screen magnifiers to read content;

The website is fully navigable and usable without JavaScript being enabled in the user's browser.
How we offer accessibility support...
Hearing & speech

If you're deaf or have a hearing impairment, or you have difficulty with your speech, please let us know by filling in the form below and we will contact you by email about alternative communication options such as:

Relay UK
NRCPD Registered Interpreters
SignLive and SignVideo

You can recommend your preferred service to Protect Line and we'll be more than happy to consider adding them to our list of approved providers. Simply provide us with a name and contact details and we will take it from there.

Vision & cognition

You can opt to receive letters, statements and other communication via post in larger print or coloured paper to make it easier to read. Unfortunately, we are currently unable to offer Protect Line communications in braille or audio formats, but this is something we are working on.

Insurance documentation may be available in braille or audio formats, depending on the insurance provider you choose.

Multiple call process

It's important to us that our customers understand the process and products every step of the way.

We can offer a multiple call process where our specialists break the call down into shorter calls. This allows you to take your time to process the information or talk about your options before making a decision. If it helps to speak to the same person each time you call, we will try to make sure this happens where we can.

If you want us to deal with a trusted family member or friend you may be able to give authority for them to communicate on your behalf, where you have certain legal documentation in place and can provide this to us. Trusted people can also assist you on the call with us to support you and to help with any questions you have. Please use the form below to contact us and discuss your needs further.

Extra time for decision making

If you need extra time on the phone or need extra time to review your paperwork to help you make the best decision for your circumstances please let us know and we'll be more than happy to support you – there's no rush! We can also provide all quotes and necessary documents via email or post for you to review prior to setting up a policy to help with your decision. There is a 30-day money back guarantee on all life insurance policies as standard.
Tell us what you need and how we can support you...
We're always happy to help. Please tell us what support you may want or need to be able to interact with us better. Our specialists are trained to listen, help and support you as best they can so you get the best experience
Enter your details below and we'll contact you
Reporting accessibility challenges
We're always looking for ways to improve the accessibility of our website and services so everyone gets the best experience. If you have difficulties using this website or services or perhaps you think we could do something better, please let us know by filling out our technical feedback form.
You're also welcome to let us know what you like and find useful!