What is Life Insurance?
Life Insurance is a way to provide for your family once you're gone. It's a difficult thing to think about, because no-one wants to spend their time imagining how or when their life might end and the financial repercussions this would have on their loved ones.
Life Insurance is often thought of as a complicated product, but this isn't the case. The right policy for you is determined by a variety of factors including your health and lifestyle, age, whether you have children or grandchildren you wish to leave a lump sum to, or perhaps have a mortgage to pay off.
Life Insurance comes in many shapes and sizes, and the language and misconceptions surrounding it can make it a tricky subject to approach. Many people worry that Life Insurance is a dangerous financial product and rarely pays out but, on average, 98% of all life insurance claims made in the UK are paid out – in 2017 this averaged at £12.5m every day.
Based on ABI review 2017
Why do I need a Life Insurance policy?
We understand that Life Insurance isn't something that people tend to think about often, because it's not a comfortable subject to dwell on. It's difficult to focus on paying for a product that you won't see the benefit of… but your loved ones will. Sometimes we have to take a look at the hard questions to understand why Life Insurance is so important and why everyone should consider a Life Insurance policy.
What would happen if you passed away tomorrow? Are your family financially prepared should that happen? Are there any arrangements in place to cover outstanding debts like mortgages? And who is going to pay for the funeral and associated costs? Whilst these questions are tough to think about, Life Insurance exists to answer these questions and provide you with peace of mind so you can focus on the things that matter – spending time with your family today, without having to worry about tomorrow.
How does Life Insurance work?
Because Life Insurance can come in many different shapes and sizes, this can depend on your personal circumstances and what works best for you. As an example, a product you could consider is Level Term Life Insurance. This type of Life Insurance provides a fixed sum assured – the money you've decided should be available when you die – to go to your loved ones or nominated beneficiaries. You choose how much this could be and how long the policy lasts for. All you do is keep making your monthly premium payments and the cover is in place.
It's not always easy figuring out how much cover you need and how long you'll need it for – that's why our team of dedicated brokers get to know you and your personal circumstances before presenting you with the facts. We're a non-advisory service so we only provide you with the facts, not our opinions. You can get a quote today.
Can I change my Life Insurance policy?
The good thing is that Life Insurance isn't a fixed product that can't be changed – as your circumstances change you may wish to amend a policy to better reflect your current lifestyle. Maybe you've just had a baby? Perhaps you've bought a home and need a larger sum assured to cover the mortgage? Whatever the reason, you always have to option to amend your Life Insurance policy, and doing it through Protect Line means you get the same excellent service and competitive rates. If you're looking to change something with your life insurance policy, we will either set up a supplementary policy to cover the changes or cancel your existing policy and create a new policy that includes everything you require – remember, your health, age and lifestyle will affect the costs of all new policies.
We're the UK's #1 Life Insurance Broker, as voted for by real customers
Providing first-class service is something we're extremely proud of. We're fortunate that our customers have recognised this and have voted for us in these excellent awards.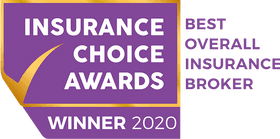 How much does Life Insurance cost?
This wholly depends on you, the individual, and your circumstances. Life Insurance can start from as little as £5 a month depending on your age, health and lifestyle and other factors. Generally, the younger and healthier you are, the less you'll pay for your life insurance.
What affects the cost of Life Insurance?
Some of the factors affecting how much Life Insurance cost are your age, occupation, physical and mental health, whether you're a smoker, whether you have a history of illnesses, how long you want the Life Insurance cover for and how much cover you're requesting. Your location could also be a factor, too. These are the most common contributors to how the price could fluctuate.
Our team of Life Insurance brokers will ask some questions about your health and lifestyle and present you with the facts when giving you a Life Insurance quote.
How do I get Life Insurance?
We make the process of getting Life Insurance simple. Firstly, you can use our Life Insurance quote comparison service to compare quotes so you have a rough idea of how much a policy might cost. Once you've done this, you'll get a callback from us – we'll learn more about you and your health and lifestyle before presenting you with a fully personalised, tailored quote. It's then your choice if you want to proceed – in most cases we can set up your policy and have you protected on the same day, giving you instant peace of mind.
Many of our customers say that they have no clue when it comes to Life Insurance. After all, Life Insurance is often something that gets set up once and then forgotten until the policy is coming to an end, so it's natural to feel bewildered and confused when it comes to finding the right protection needs for you. Whilst we can't offer any advice to our customers, we do however provide Life Insurance quotes without opinions or bias, meaning you are free to decide between what you feel is best for you.
How does it work?
We've made our process as quick and simple as we can. It goes like this:
Fill out our quick form
It takes a couple of minutes
We'll call you
To chat about the cover you need
What are the different types of Life Insurance?
Life Insurance can often be confusing due to the variety of different policies and options that are available. We've broken down the most popular Life Insurance products below:
Level Term Life Insurance
Level Term Life Insurance is a policy where the amount of cover stays the same or 'level' for the duration of the policy, ensuring that your family is left with a chosen sum to help pay for expenses or keep them comfortable. Level Term policies can run for any length of time between 1 and 70 years, up to a maximum age of 80-90 depending on your insurer. Level Term life assurance plans typically have no cash-in value and will cease at the end of the term, meaning you will need to get another policy in place to stay protected. If the premium payments are not maintained, the cover will lapse, so it's important to keep making the payments to keep your cover in place. Level Term policies also have a fixed premium cost – so this doesn't increase or decrease during the policy term.
Find out more about Level Term Life Insurance
Decreasing Term Life Insurance
Decreasing Term Life Insurance (or 'Mortgage Protection' as it's also known) is a policy where the amount of cover goes down or 'decreases' over time, usually to match your mortgage repayments. This policy is designed to ensure that your loved ones are not left with the debt of maintaining your home or mortgage repayments if you should die before the mortgage loan is fully repaid. A decreasing term policy is only suitable for repayment mortgages and not interest-only mortgages.
Find out more about Decreasing Term Life Insurance
Whole of Life Insurance
Whole of Life cover is a policy that has no expiry date and will pay out a fixed amount when you die. The amount for which you're insured stays the same for your entire life.
Find out more about Whole of Life Insurance
Critical Illness Cover
Critical Illness Cover can be added to any of the above policies or taken out as a separate policy. It is a type of insurance that pays out if you're diagnosed with a specified illness of medical condition during the policy term. Critical Illness Cover pays out whilst you're still alive and exists to help with the expenses of being critically ill.
Critical Illness plans may not cover all definitions of a critical illness. The definitions vary between product providers and will be described in the key features and policy document if you go ahead with a plan.
Find out more about Critical Illness Cover
Joint Life Insurance
Joint Life Insurance (or 'Joint Cover') is a term to describe any of the above policies that is taken out in the names of two people, usually married or co-habiting partners. It pays out in the event of either of the policyholders' death or if they are diagnosed with a critical illness, depending on the policy which has been taken out. In some cases we can set up Joint policies that pay-out once the second person dies. If this is something you're interested in, we can help set this up for you.
Find out more about Joint Life Insurance
Over 50s (Non-Medical) Life Insurance
Over 50s Life Insurance is a policy that is designed for those over the age of 50, which doesn't require any medical questions or examinations. As long as you meet the basic age and affordability requirements, your application is guaranteed to be accepted.
How much cover do you need?
How much Life Insurance cover you would need to protect your family can be a difficult question to answer. Our calculator can help you work out how much your family would need if the worst should happen.
Mortgage
How much is outstanding on your mortgage?
We work with some of the UK's leading insurers