Posted 16th February 2021 by Chris Reed
Buying a property in the UK can be an anxious and stressful experience, and it can also be a very expensive time when factoring in the deposit, fees and everything else that comes with purchasing a home. It might be a surprise to hear that only 50% of households with a mortgage actually have life insurance in place then… why is that?
Making sure you're appropriately protected is a big commitment. Before you jump in and purchase a policy (or choose not to), we're going to help answer all of your questions.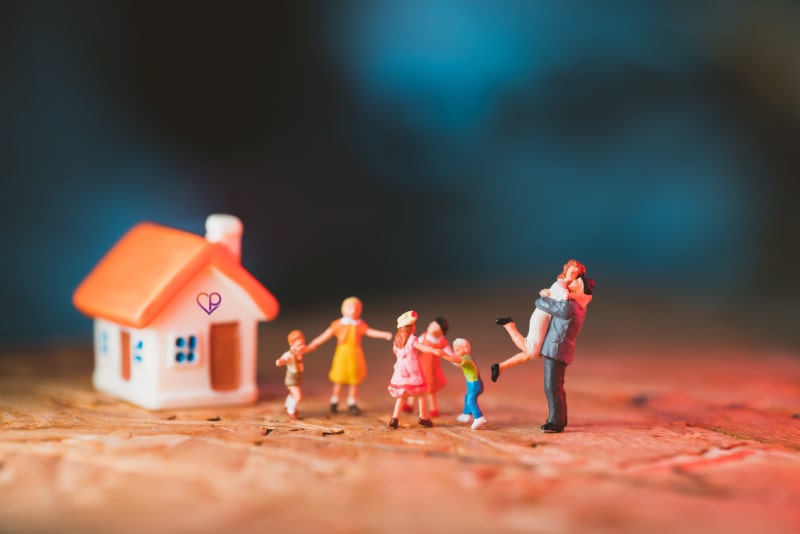 What is mortgage life insurance and how does it work?
Mortgage Life Insurance is a type of cover designed to pay off your mortgage should you die before the debt is paid off. Ultimately, it's about ensuring your family can remain in your home should the worst happen to you. Awareness and understanding of how these policies work is key, so it's important to understand all the options available to you:
Decreasing Term Assurance
This type of policy is designed to pay out an amount to clear a repayment mortgage. A repayment mortgage works just like a loan – you pay a certain amount each month and at the end of the term the mortgage should be clear. For this reason, the mortgage amount you have borrowed reduces each month.
A decreasing term assurance policy works in a similar way – the pay-out reduces at a set rate each month or year and therefore should track in a similar direction to your mortgage.
It's important to note that each insurer offers different options to how fast your cover will reduce. If your mortgage interest rate changes or you change your mortgage term, your life insurance could be reducing faster than your remaining mortgage balance and you could be left with a shortfall.
You may also want to note that your payments will usually be guaranteed and not increase or decrease in price.
This type of cover tends to be the cheapest option when compared to Level Term or Index Linked (Increasing) Life Insurance. The difference in price may however not be as large as you expect – it often pays to compare all of your options before making a decision.
Level Term Assurance
You'll be pleased to know this option is far simpler than a decreasing policy. This type of policy simply pays out a fixed lump sum across a fixed period of time. So for instance, if you choose to cover yourself for £250,000 over a period of 25 years, then it would pay out this amount on day 1 of cover or the very last day of cover (if you were to pass away of course).
Level term assurance has traditionally been sold with Interest Only mortgages. Less people have this type of mortgage now as you often need a separate 'repayment vehicle' to show your lender that you will be able to pay off the mortgage before a certain date.
Sometimes people choose to amend their cover from decreasing to level. The older you get and the more you pay off the mortgage, the larger the surplus will be. For example, if you have paid off half of your £250,000 mortgage but still had a £250,000 level term policy in place, your family would benefit from £125,000 of extra funds. This could be used however they see fit.
Index Linked (Increasing Term Assurance)
This type of life cover is very similar to level term assurance. It pays out on death of the insured policy holder, but the cover amount is designed to increase in line with inflation. Different insurance companies offer different options to how your policy can increase, so it's best to discuss the detail of this with your broker. The basic principle is that the insurance company will offer you the chance to increase your cover and premium each year.
The benefit of this policy is the fact that your cover stays relevant with inflation and therefore still has the same amount of buying power. It also allows you to increase the level of your cover without your health being reassessed.
If you have a repayment mortgage, this may give your family extra funds to settle other debts, pay for a funeral or replace some income for a period of time.
Is this the same as PPI or MPI?
Payment Protection Insurance (PPI) and Mortgage Protection Insurance (MPI) are products designed to help borrowers keep up their repayments for a finite amount of time. Usually customers could claim on these policies for a specified list of reasons like if they had an accident, sickness (which required a certain period off work) and sometimes for unemployment, too. Sometimes these policies were bundled with a life cover policy.
These polices have fallen out of favour since the Financial Services Authority (now known as the Financial Conduct Authority or FCA) started to issue fines for mis-selling.
Protect Line does not offer any form of PPI or MPI and never has. We also cannot offer any advice on these products.
I already have Death In Service, do I still need life insurance?
Death in service is typically a benefit you receive from your employer when you are opted into a pension. The benefit is designed to pay out a lump sum usually equal to a multiple of your salary if you pass away while you are employed with the same employer. 2-4 times your salary is normal, although sometimes it can be more.
The important point to note here is that the policy will only pay out if you are still working for your employer when you die. This means that if you leave, retire or the company goes bust, you may lose this protection. As you will be older and possibly have picked up health conditions, it may also be harder to get new cover at an affordable price.
Often these benefits are also not contractual benefits. This means your employer may choose to remove or change them in the future.
People often choose to cover needs like their mortgage to ensure there would be a sufficient pay-out should the worst happen. This means their private cover is in place should their family need it. Your death in service pay-out can be used as an extra lump sum for your family or funeral.
How fast will this cover pay-out?
There are a few factors that come into this question. Typically, once a claim is put in with an insurer it will be paid within 2 weeks. Some insurers are working hard to speed this up and in simple cases will sometimes pay-out within a couple of days.
Lots of insurers will release a cash lump sum to help with funeral expenses even if the full claim has not yet been validated.
Complications that could delay a payment can include suspicions surrounding the cause of death, a trust, the need for a doctor's report or evidence not being provided quickly enough.
Are there any exclusions?
Most insurers will exclude suicide in the first 12-18 months.  In addition, some insurers may also exclude claims arising from:
Drug or alcohol misuse
Involvement in war or terrorism
Gross negligence or a reckless act
You may also find an insurer will impose extra conditions on your policy if you take part in a high-risk sport or have a high-risk job.
As always, it pays to shop around – getting a quote from a broker can save you time as they'll know from experience which insurers may be the most tolerant to different factors in your health and lifestyle.
Companies want to maintain their reputation for high claim pay-out rates – in 2019, the Association of British Insurers recorded that 98.3% of all life cover claims had been paid out.
Why might I need mortgage life insurance?
What would you like to happen to your house when you die? This cover may be appropriate If you live with your family or if you would like someone to benefit from your property when you pass away.

What would happen if I don't take out mortgage life insurance?
Until your mortgage is paid off, your property can be sold by your mortgage company. Their interest is in ensuring your loan from them is repaid. With life insurance protection, you know that a lump-sum would be paid out to your beneficiaries, should the worst happen while you are still paying off your mortgage.
What is the average cost of mortgage life insurance?
In 2020, the average decreasing term assurance policy taken at Protect Line was under £20 a month. While cover is based on your age and health, a broker can tailor a policy to meet both your needs and your budget.
Do I need to buy it from my mortgage provider?
Your mortgage provider can insist you need to take out cover but cannot demand you purchase it from them. Shopping around with a broker could save you thousands of pounds across the policy term.
What happens if I die and my wife or husband is not on the mortgage?
Your partner does not need to be on the mortgage to benefit from the money received from a policy pay-out. Once the money has been received, your wife, husband or partner can decide how they wish to spend it. One way could be paying off the mortgage if they wish (or they may choose to go on a holiday of a lifetime).
How much cover do I need for a mortgage life insurance policy?
This is a personal choice. Many young people choose to take a lump sum equivalent to their mortgage balance. You can also opt for additional cover for young children.
Your broker can help tailor a policy to suit your needs and budget – it's important to secure a policy that is affordable so you can ensure you can keep up with the repayments.
What if I have a pre-existing medical condition?
This is where using a broker can be really handy. Each insurer treats every medical condition differently – your premiums may increase (rated terms) with one insurer while another may keep them the same (standard terms).
A non-advised broker is obliged to give you the all facts so that you can make an informed decision.
Protect Line are experts who have helped thousands of people with pre-existing conditions find affordable protection. Simply let your expert know what medical condition you may have and they will scour the market to find you competitive cover.
Does my partner need to use it pay off the mortgage?
Not at all. You get to choose who you leave the funds to in your Trust. Your partner can choose to use the funds however they see fit. This is particularly helpful if your circumstances change over time.

Do I need critical illness cover for my mortgage?
Critical illness cover is not a legal requirement in any situation. It could stop you needing to worry about mortgage repayments should you be diagnosed with a critical illness, though.
According to Royal London, you are 4.1 times more likely to be critically ill than you are to die before the age of 65.
Most people cannot afford a policy large enough to cover all outstanding repayments. You could secure a lump sum large enough to help keep up your monthly repayments and give yourself one less thing to worry about. Hopefully, you now know if life insurance is worth buying?
Rather speak to someone?
Most people do! Our industry is chock-full of jargon and medical terms. We're here to help and our service is totally fee-free! We simply get paid a commission by the insurer if you choose to take cover with us.
Still have questions but not ready to speak to someone? Why not check out our Ultimate Life Insurance Guide
Protection plans with no investment element will have no cash-in value at any time and will cease at the end of the term. If premiums are not maintained then cover will lapse.