Making a difference where we can to help those in need
In our line of work, we are lucky enough to help people protect their families from the huge financial pressures of losing a loved one; however, we recognise that there is always more we can do to help those who are in need. With that in mind, we do what we can to raise funds for some amazing charities.
2018: Various Charities
For 2018 we didn't select one charity in particular, however we've taken part and raised funs for a selection of different charities.
Our latest activity was entering a Protect Line team for the Pink Champagne Breast Cancer Survivor's Dragon Boat racing in September 2018. This fun and challenging day was enjoyed by all who took part, with Protect Line finishing admirably in 4th place from the 12 teams that entered.
2016 – 2017: The British Heart Foundation
Over 2016 and 2017 we embarked on an exciting journey with The British Heart Foundation. For many of us at Protect Line, this charity has close connections to our personal lives as well as having a strong link to the work we do here. We had new and interesting fundraising opportunities. Our focus was on internal and external events – involving all of our staff in our mission!
2015: Winston's Wish
Donating to Winston's Wish was our way of giving something to those who are affected in ways money alone can't repair; children and teenagers who lose someone close to them need a special kind of support. By providing them with an outlet for their grief and a system to support them throughout the process, Winston's Wish help over 30,000 children a year and, because they do such a fantastic job, they're reaching more and more people every day.
Winston's Wish have many amazing services including inviting children to online and group spaces so they can engage and discuss their situations in solidarity with one another, enlisting the help of psychiatrists and support workers so that children can rationalise and voice their grief, and maintaining a helpline for children and carers alike. This life-changing work can only be done with the help of donations.
Our donations have come from internal and external events. Highlights have included a skydive and dunking a member of staff in baked beans! Our staff also give monthly through their payroll. We are delighted to have had the opportunity to gain a relationship with such brilliant and worthwhile cause.
We're the UK's #1 Life Insurance Broker, as voted for by real customers
Providing first-class service is something we're extremely proud of. We're fortunate that our customers have recognised this and have voted for us in these excellent awards.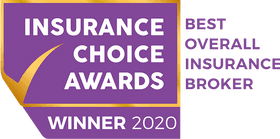 How much cover do you need?
How much Life Insurance cover you would need to protect your family can be a difficult question to answer. Our calculator can help you work out how much your family would need if the worst should happen.
Mortgage
How much is outstanding on your mortgage?
We work with some of the UK's leading insurers