Life Insurance for Healthcare Workers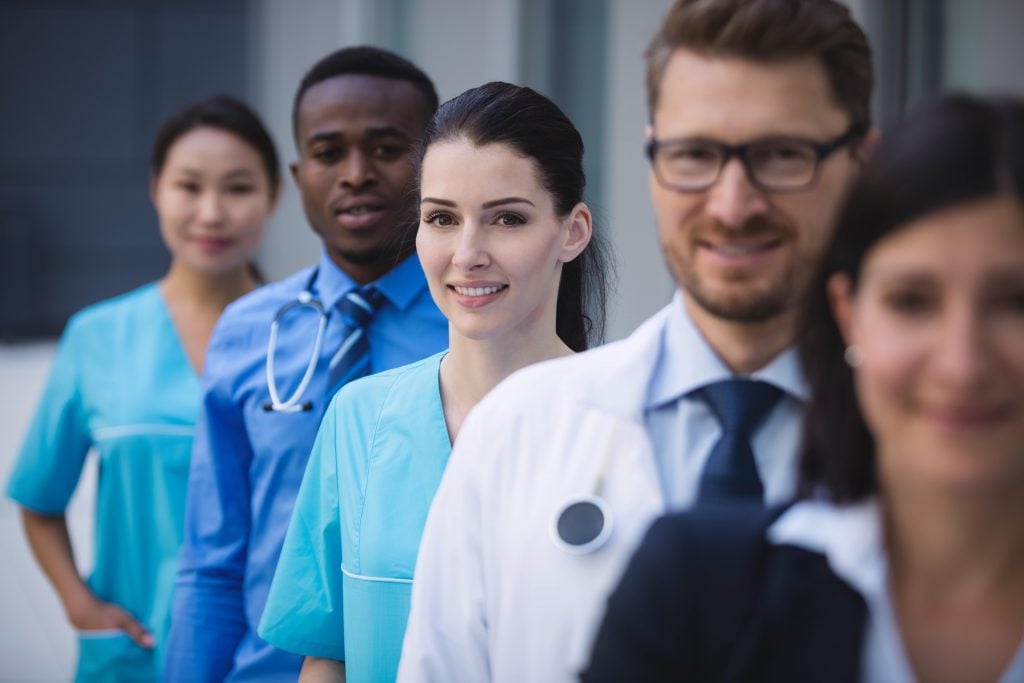 Posted 14th January 2021 by James Holden
If you work for the NHS, either as nurse, doctor, paramedic or other UK healthcare practitioner, then you'll be well aware of just how precious life is and how people's lives can be turned upside down in a matter of minutes.
When somebody dies they not only leave behind their friends and family to grieve, but often a large amount of financial responsibilities. Unfortunately debt often does not disappear once somebody is gone, it is simply transferred to the next of kin. This means families of the deceased are often saddled with large outstanding mortgages and still need to pay the bills, buy food and clothes for the children, plus save for the future… all without that person's income.
This is where life insurance becomes so valuable. For an affordable monthly sum an insurer promises to pay out a fixed amount upon the policy holder's death, within the term of the policy. Families can have peace of mind knowing that their financial situation will not suddenly deteriorate and they can focus on the grieving process.
Do NHS Nurses get free Life Insurance?
All NHS employees including nurses and social care workers who actively contribute to the NHS pension scheme are covered by the 'death in membership' life assurance scheme. This means that if you were to pass away whilst working for the NHS and paying into the pension your family could receive a pay-out at a multiple of your annual salary, usually 2-5 times, or a figure based on your retirement lump-sum. When you joined the scheme and your length of service also plays a part in the potential pay-out. It is worth checking your contract or talking to your HR department to find out exactly how much this sum would be. You may also be able to specify to your employer how to apportion the money on your behalf.
What is the Covid-19 life insurance for Nurses?
As part of the Coronavirus Act 2020, which took effect on March 25th, the UK government will pay a £60,000 lump-sum to the bereaved families of any front-line NHS workers in England who died due to contracting Covid-19 at work.
The coverage of the scheme is fairly broad across the health and care sector, with a variety of roles included such as dentists, GPs and care assistants. This special NHS life assurance offers protection to full, part-time, or locum NHS and public health workers during the Covid 19 pandemic. It is important to note that the contraction of Covid-19 must be work-related to be eligible.
Do Healthcare workers and Nurses need Life Insurance?
Whilst the insurance cover provided by the NHS is a fantastic benefit, it's important you look at your personal needs to ensure it offers adequate financial protection for your family.
The average annual salary for frontline healthcare workers in the UK is just under £34,000. This means that at 2x salary for the death in service benefit your family might receive £68,000. If you died of coronavirus the government scheme may boost that up to £128,000. Ask yourself the question: would £128,000 be enough to sustain your family's way of life for the foreseeable future if you were no longer around?
When considering how much life insurance you need as a health and social care employee it's most important to think about your outstanding mortgage so that it can be paid off in full. If your mortgage is not protected then your family may have to sell it or will struggle keeping up with the mortgage repayments. If you don't have a mortgage then multiply your annual rent by 20 or more years, taking inflation and future rent increases into account. Consider your household's annual outgoings, such as bills, clothes and food. If you have children would you want to leave them a financial gift so they can get married, have a house deposit, or experience the world through travel?
Life insurance for nurses can cost as little as £5 per month for £100,000 of cover*. This pay out amount would be in addition to any benefit from the NHS pension scheme (you can have multiple policies with different terms so that you're completely protected). Protection is often very affordable – if you're a 30 year old who doesn't smoke and has perfect health you could get up to £300,000 cover for £10 a month over twenty years**.
You may also wish to consider additional protection such as Critical Illness Cover. This insurance sits alongside your term life insurance policy but rather than paying out on your death it pays out if you become seriously ill, such as getting cancer or having a stroke. This acts as a type of income protection because it's unlikely you'll be able to work with a critical condition.
How do I apply for Healthcare Life Insurance?
The application process for healthcare life insurance is quick and simple. If you use a trusted FCA regulated broker such as Protect Line it starts with inputting a few details about yourself and then getting a free no obligation quote with several costs from different insurers. You'll then be given time to look into the terms of each insurance company's products, get any question answered by a qualified expert, before deciding on an insurer and getting the policy. You're able to cancel at any time without penalty.
Protection plans with no investment element will have no cash-in value at any time and will cease at the end of the term. If premiums are not maintained then cover will lapse.
Critical illness plans may not cover all definitions of a critical illness. The definitions vary between product providers and will be described in the Key Features and Policy Document if you go ahead with a plan.
* Life insurance starting from £5 a month for £100,000 of cover for 20 years for a 30 year old non-smoker, based on perfect health. ** Life insurance quotes generated on www.protectline.co.uk using the Webline service and are accurate as of 10/04/19