How Is The Pandemic Affecting Families?
Posted 29th January 2021 by Chris Reed
This week the UK Government have released new data to show how UK families have been affected in the latest lockdown. The Office of National Statistics (ONS) website published the statistics titled Coronavirus (COVID-19) in charts: What we learned over the past month.
At Protect Line, we have homed in on the areas that relate to how the latest measures have affected UK parents.
Most pupils returned to home learning as lockdown began… again
Parents once again face the challenge of juggling home-schooling with work and domestic responsibilities. The chart below illustrates that most UK families are currently navigating this challenge:
Vulnerable children and children of 'critical workers' have still been able to attend school across the UK.
During the autumn term of 2020, 86% of children attended school. Since the new lockdown, attendance reduced to 13.9% in state-funded schools  (statistic from 13 January).
Attendance of 13.9% is however much higher than just after the start of the first lockdown.
Between 11th and 15th of May 2020, average attendance at state schools in England was 2.4% (including children of critical workers and vulnerable children). The Office for National Statistics estimates that 3.2 million UK key workers have children between the ages of 5 and 15 years old.
More adults report staying at home (except for essential reasons)
62% of those surveyed between the 20th and 24th January 2021 said they had only left home for medical needs, work, essential shopping or exercise:
This compares to only 43% who said they stayed home between the 11th and 15th November 2020 (Lockdown 2). However, it's important to note that the second lockdown was not imposed across the whole of the UK. Wales had a so called 'fire-break' lockdown between the 23rd October and the 9th November 2020. In England, 'Lockdown 2' did not start until the 5th November 2020 and lasted until the 2nd December. At this time Scotland had different local protection levels.
Whilst this data shows more people are staying at home, it's still less than the 81% who said they had stayed at home between the 14th and 17th May 2020 (nearly two months into the first lockdown).
Some families have had nearly a year of disrupted income from changing laws and consumer behaviours. Could this financial pressure explain the difference in the amount of adults at home this time around?
More people are saying they would accept a vaccine
The latest survey results show the ONS show that 89% of UK adults would accept the vaccine if it were offered to them: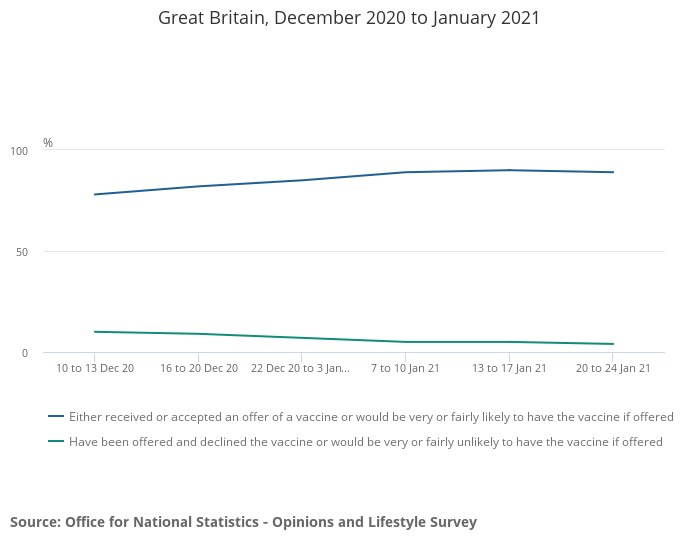 The first coronavirus (COVID-19) vaccine was administered in the UK on 8th December 2020. Since then, there has been a gradual increase in adults saying they would be either very likely or fairly likely to have one, if offered.
Between 10th and 13th December 2020 78% of people surveyed said this. By 20th to 24th January 2021, it was 89% (including those who reported having already received or accepted the offer of a vaccination).
The percentage saying they would be very or fairly unlikely to have one fell from 10% to 4%.
This data shows that the government is winning in its fight against misinformation around vaccination.
What does all of this mean for families?
Boris Johnson announced that he hoped all schools will go back on 8 March 2021. It seems that little will change until this date. However, in the week ending the 24th January an additional 2,234,312 people were reported to have received an NHS vaccination for COVID-19 in England.
It's clear from the recent data that most UK families are doing the best they can. People are mostly adhering to the rules and working with the Government. For families that are struggling financially due to COVID-19, there are resources  available at workingfamilies.org.uk.
How does coronavirus (Covid-19) affect life insurance?
No UK life insurance company has yet added any exclusions to stop people claiming as a result of COVID-19. Contracting COVID-19 can however affect your ability to take out new cover.
If life insurance is on your mind, it's quick and easy to get a quote from Protect Line. If you're still unsure and would like to learn more about life insurance, why not check out our Ultimate Life Insurance Guide.