Don't leave life insurance until the view is from your hospital bed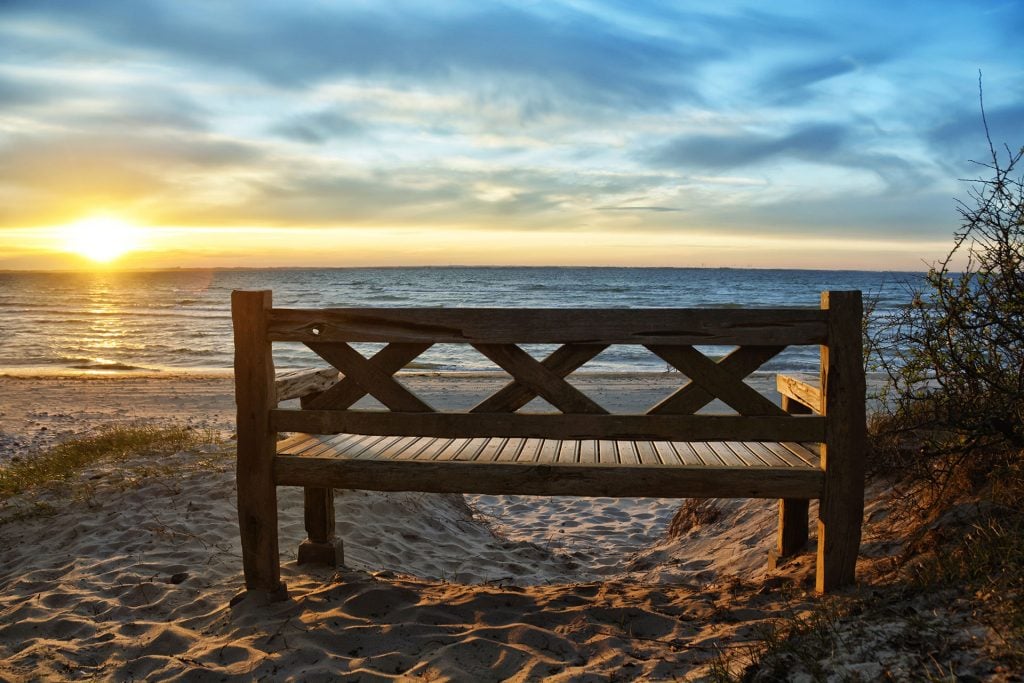 Posted 22nd January 2020 by Lara Maynard
When it comes to life insurance, don't wait until you glimpse the sea from a hospital window.
I've lived by the sea for ten years, never more than a few hundred metres away from a harbour or beach view. It's funny how complacent you become – it's just there, it's always been there and it always will be there. Life is busy; life is too busy to stop and appreciate what we have around us, that is until life stops you – stops you dead in your tracks and the only view of the sea is the tiny glimpse, through the trees, from your hospital bed.
That was my reality in the summer of 2019. A full-time working Mum of two; stereotypical juggler of life and superhero to my two girls. Every morning I'd put on my cape and pull my pants up over my trousers to ensure that both work and my family got 100% of me. It doesn't take a mathematician to work out that those kinds of numbers for one person won't last, but yet I am one of a million other parents doing just that.
We keep going, running low on fuel, putting kids and work first; us at the bottom of the list because, "we'll be ok." Somehow, surviving on no sleep and a combination of wine and coffee is a sensible solution because, "it will never happen to me…"
Well believe me – it can. And when it does, there is no notice! No time to plan… it's just survival, hope and a reliance on whatever has already been put in place.
I was sitting at my desk on an ordinary Wednesday; yes I was tired, but what's new? However, this was an odd kind of tired – a wrong feeling that made me go and write notes to my girls. First to my eldest (eleven) reinforcing as many life lessons, words of advice and love as I could in two or three short pages; finished off with the request that she would teach these things to her little sister (one) and to promise to keep her safe and strong.
To my youngest daughter, more an apology for leaving her so soon and a thank you for the joy she had brought to my life in such a short space of time.
I had no idea why I had written these notes. All I knew is that I had to. Two days later I awoke at midnight, uncontrollably shaking and feeling freezing cold but with a temperature of over forty degrees.
Next thing I'm in A&E – checking in and being fast-tracked past the fifty or so people sat in the waiting room and, within minutes, I was being wheeled into the Major Units ward. I remember thinking, "this can't be for me… they must be full in the normal bit." When half a dozen nurses and doctors appeared, throwing needles and lines into my arms like I was a human pin-cushion and talking about stats that made no sense, I realised this really was for me. This was happening.
I wanted to be out of the hospital in time to see my girls before school and nursery. I couldn't possibly be really ill, could I?
It took at least 24 hours for the realisation to dawn on me that this was serious. The other five patients on my ward were being discharged and I watched them with a hint of jealousy whilst my body was failing me.
My immune system was attacking itself. I was told I had Sepsis – a disease that poisons the blood and causes untold damage to your internal organs.
"Hang on, Sepsis? People die from Sepsis… I can't have Sepsis, that's serious. This wasn't supposed to happen to me. I have things to do! I need to get out of here… my girls need me, my husband needs me. I have a life to live…" I have never felt so vulnerable and out of control in my life.
From my bed, I glimpsed the sea off in the distance, glistening and existing as it has done for my whole life. It had never seemed as far away as it did in that moment. It was only a few hundred metres away, but for me it felt unreachable. I felt this same hopelessness for my children. Would I ever be back to normal again?
As I was laying in the hospital bed, intravenous lines entering my body from all angles, being told that what they were pumping in was the equivalent of clearing my system out with bleach and uncertain of what was coming next, reality struck. I faced my mortality, and truthfully, it's not much fun.
They say your life flashes before your eyes. I don't know if that happened to me, but if you've ever seen Sliding Doors, I saw the 'what-if' of life without me, playing out with scary clarity in the theatre of my mind. What was this alternative reality like for my girls? For my husband who had been managing the house, the kids, his job and managing to see me over the last few days? How would he comfort our girls and himself? How would my girls still have the life I'd dreamed for them?
I had some comfort knowing that my life insurance would mean the mortgage would be paid off, however it's funny that in those moments it's not so much about keeping 'a' roof over their heads but about keeping 'THAT' roof over their heads – for the girls to still be able to play in the garden where we etched our initials on a tree, to be able to keep my welly boots in the same spot next to the front door, to be able to clamber into my side of the bed next to their Dad for comfort and to continue to mark their heights on the same wall each year.
I can't tell you how much comfort that gave me, let alone knowing that my husband wouldn't have the additional financial burden that, frankly, I thought could finish him off too. I needed him strong, to continue to be their Dad but to take my place whilst also dealing with his own grief.
At 2am, with my stats all still flailing wildly out of control, I dug deep. I dug deep for my life, for my girls, for my family. I have motivated people all my life, helped people fight their demons and the causes of stress in their lives, so I decided to turn that inwards towards myself and gave my body the greatest fight talk of its life. I told it there wasn't room for this sickness! I needed to get out of here and hold my girls hands.
The next morning, for the first time in over one hundred checks, my temperature had dropped, my blood cultures were clear… there was progress. Things started to feel a little bit more normal.
I was discharged a few days later; I got my girls and my husband and we drove to the sea. I sat on a bench and across the water through the trees, I could see a glimpse of the hospital. I breathed like it was my first breath. Deep, gratifying. I'd managed to get through this.
Life is unexpected – it does not give us notice. It doesn't give us time to plan, time to think, time to breathe. It's one fight after another. It's living each day the best we can. It's being thankful for the loved ones we have around us, for the roof over our heads, for the car we drive, for the job we have, for the food we eat.
Since my battle with sepsis, I have reassessed everything in my life and put all of my affairs in order. I've amended my life insurance policy to not only pay off our mortgage, but to provide a lump sum for my family. Money for the kids when they're older – university tuition, their first car, a deposit on a house, a wedding… whatever they choose to do, they'll have funds to do it.
As well as life insurance it is also worth considering critical illness cover is something else I've put in place. This will pay out a lump sum if I get cancer or a serious illness that means I can no longer work and doesn't put that financial strain on my family to support me.
I was "one of the lucky ones".
But what if I hadn't been? What if you aren't as lucky as me? I experienced first-hand how quickly fate can intervene and how important it is to have life insurance and critical insurance cover in place whilst we are busy taking life for granted.
Do it whilst the hospital is a glimpse in the distance, because when you glimpse the sea from a hospital window, it could be too late.
Lara is 45 and married with two girls; 11 and 2. She's a full-time working Mum, having worked in Financial services for over 20 years. Lara is passionate about her girls and they form her full-time hobby – there isn't much time for anything else! In her 'spare' time, she enjoys the gym as part of her reconditioning programme and recovery from Sepsis.
Protection plans with no investment element will have no cash in value at any time. If premiums are not maintained then cover will lapse.
Critical Illness plans may not cover all definitions of a critical illness. The definitions vary between product providers and will be described in the key features and policy document if you go ahead with a plan.