Get Life Insurance and we'll
donate £100
to your Heja youth sports team!
Get Life Insurance and we'll donate £100 to your team!*
We've partnered with Heja, the app that helps sports teams organise and communicate better!
Life Insurance protects your loved ones

Policies start from just £5 a month

It's quick and easy – you could be covered today!
Join over 270,000 UK families who've taken out Life Insurance with Protect Line
Do I need Life Insurance?
Life Insurance is a way to leave a lump sum to your family so they don't have to be concerned about money at a time when they have more important things to worry about.
What would happen if you passed away tomorrow?

Who is going to pay for the funeral and associated costs?

Are your family financially prepared should that happen?

Are there any outstanding debts, like mortgages or bills to pay?

Is there anyone who relies on you financially?
Whilst these questions are very tough to think about… Life Insurance exists to help answer these questions and can provide you with peace of mind your loved ones are protected from the potentially devastating financial loss if something happened to you. That way you can focus on the things that matter like… spending time with your family today, without having to worry about tomorrow!
Use our quick and easy Life Insurance comparison service. You can have everything sorted for you within minutes.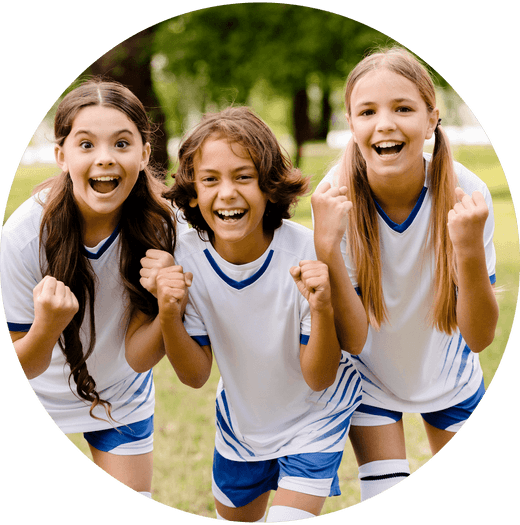 Meet the parents!
Hear straight from our customers and find out why they chose to protect their family with life insurance from Protect Line
Get affordable Life Insurance in 3 easy steps
Give yourself peace of mind that your loved ones are covered for when the worst happens…
Fill out our quick form
The form is simple and fast to complete!
We'll call you
To chat about the cover you need based on your circumstances
You choose the cover
Find the best policy for you, we set it up. That's it!
What do I need to know?
To claim our exclusive offer, you must use the links on this page to request a quote, speak to our specialists and purchase an insurance policy!
*If you take out a life insurance and/or critical illness policy with Protect Line using the links on this page, we'll make a £100 donation to an eligible youth sports team of your choice. After paying three monthly premiums, you'll be asked to confirm the payment details for your team and the £100 will be sent directly to the provided bank account, which must be in the name of the associated sports club. This is an exclusive promotion for Heja app users. See Terms & Conditions.
You probably have some questions
Check out some of our most Frequently Asked Questions below
Who are Protect Line, and can I trust them?
Protect Line is one of the UK's leading fee-free Life Insurance Brokers. With over 40,000 five star reviews on Trustpilot and multiple consumer awards, we're also the most trusted.
Established in 2010, Protect Line has grown with pure passion and entrepreneurial drive, today employing over 250 staff across offices in Bournemouth and London.
We sincerely believe that every person deserves to enjoy life with their loved ones and have the peace of mind that comes with financial security. We know the importance of Life Insurance and are proud of having protected over 270,000 families from financial hardship if the unexpected happens. This is why it is our company mission to protect as many UK families as possible.
Who is eligible to receive the £100 payment?
Your chosen recipient must be registered youth sports club based in the United Kingdom. We define registered youth sports club as a registered charity, community interest company, school, society or dedicated club primarily for promoting sports for under 18s, and where there is a dedicated UK bank account in the name of the club.
When will Protect Line send the money to my club?
Your chosen youth sports club, subject to eligibility, will receive the £100 payment after you have purchased a life insurance and/or critical illness cover policy from Protect Line and maintained a minimum of three monthly payments and provided the necessary sports club information.
What are the full Terms & Conditions of this offer?
Please note that this offer is not endorsed or administered by Heja. All enquiries regarding the offer should be made directly to Protect Line.
£5 per month based on a 30-year old non-smoker in perfect health with £100,000 of life cover over 20 years. The information contained within this page is for editorial purposes only and not intended as financial advice.