Indoor Christmas activities for the whole family
Posted 7th December 2016 by Lewis Murray
Decorating & Writing Christmas Cards
Of course the easy option is to pop over to the nearest shop and purchase the most festive pack for Christmas cards you can find, but there's not much fun in that! A great way to re-purpose your past cards that are probably collecting dust somewhere is to re-cycle them into new handmade cards. Or get creative in your own way and make some from scratch. This is a great idea if you have older children who have the patience to cut, stick and glue. We really love this cute button wreath design:
It's great to get the little ones involved when it comes to cooking and preparing food. Especially baking sweet treats! Even if your little one is too young to get involved with the mixing and baking, they can have fun decorating them. We think these smart gingerbread men and women by BBC Good Food are a great place to start.
There's so much fun to be had here too. We've searched high and low on the internet for some creative wreaths and these 3 are our absolute favourites.
If you've ever made pom pom's you'll understand how addictive it is! And this wonderful winter land wreath with polar bears would look just perfect anywhere in the home.
Sea Salt have shared this rustic rope wreathe, finished with a perfectly festive bow, especially perfect if you're a fan of the nautical theme.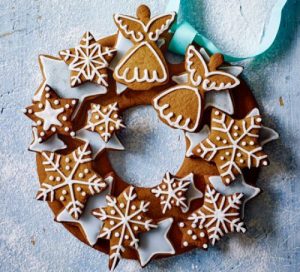 And of course there's one for the avid baker. This gingerbread wreath by BBC Good Food looks delightful, if only it's not gobble up before you can hang it.
There's an abundance of simple or creative snowflake designs to be found on Pinterest. We particularly like the one in the image above by Alpha Mom
One of those traditional little touches to the home, but a really simple one to get the family involved with.
We hope this post has inspired you to get creative in the home, with something for the whole family to get stuck in with.